Student led and funded organizations like CFRU Radio at the University of Guelph are an essential part of student life. (Listen to this radio panel discussion below)
The End of Campus Radio in Ontario?
The Ontario Government's Student Choice Initiative has the potential to devastate campus radio stations and many other student organizations across the province.
One of the most remarkable things about campus radio is its ability to serve so many different roles for so many different people.
For generations, campus radio stations have been humble hot spots for exciting new sounds, a low-barrier platform for music outside of the mainstream, and capable of catapulting a DIY musician's career to international acclaim through sheer listenership. They are an increasingly rare source of independent media, providing entire communities with access to local news and programming that reflects their diversity and isn't hindered by commercial or political interests. Campus radio stations are creative outlets, cultural archives, places of employment and skills development, and they are student havens during stressful semesters. They offer inspiration, support, training, opportunities, friendship, and education. They are a vital part of the national emergency alert network.
And in Ontario, they are in danger of closing.
The "Student Choice Initiative" essentially overrides every democratic decision the students have ever made.
Thanks to a sweeping new policy introduced by the current Ontario provincial government, these not-for-profit organizations have had their funding models changed virtually overnight with no consideration given to the inevitable and far-reaching consequences. The government has branded their policy the "Student Choice Initiative", and it essentially overrides every democratic decision the students have ever made. For decades, campus radio stations have only been able to open and operate after securing funding through successful student referendums. The Student Choice Initiative effectively erases that process, replacing it with a model that allows each student each semester to pay or not to pay, creating a system that is completely unstable and unsustainabe. This policy is unprecedented. It has the potential to destroy every campus organization across the province. It is unnecessary and illogical - the government has not done any consultation or preparation for it. And it expects the policy to be implemented for the coming fall semester in September.
Consider for a moment (because the Ford Government certainly hasn't) the amount of work, money, and dedication that must go into starting a campus radio station. Once you've found an available frequency, you must apply to Industry Canada for it. But to do that, you must first hire an engineer to produce a technical brief and find suitable site for the antennae and transmitter that you'll be purchasing.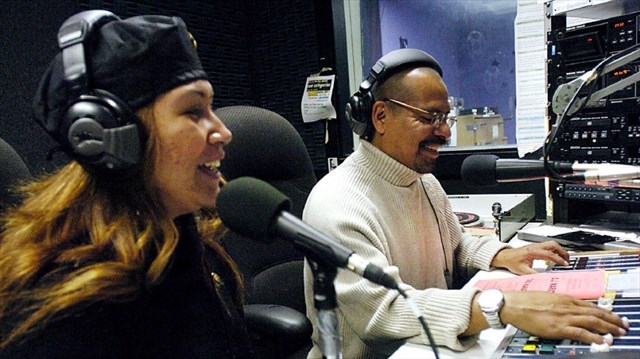 The weekend-long Spanish radio marathon on CFRU at the
University of Guelph is part of the unique programming
offered by Ontario's campus radio stations. In the meantime, find yourself an appropriate and affordable space for your studio, music libraries, storage etc. that is accessible to students and community members. You'll need to assemble a board of directors with proper student representation, and then price out all the technical equipment so you can prepare a financial projection statement. You'll probably also need to do some market research, and demonstrate how your on-air programming and policies will comply with the conditions of a campus radio broadcast license. You'll assemble all of this information in your application to the CRTC and then you'll wait with fingers crossed. If you're approved for a broadcast license, then the real work begins: buying and installing your antennae and transmitter, purchasing all the equipment and setting up your studio, recruiting and hiring the people who can do all those things, establishing relationships with record labels, distributors, and artists to start cultivating a music collection, applying for a SOCAN license to be able to play this music, training on-air programmers, compiling reports and audits, paying all the bills, and on and on it goes. This doesn't even include the enormous amount of volunteer hours needed to produce all the content or the fundraising required to supplement the student funding that had been promised.
The situation is desperate and the impacts of losing Ontario's campus radio stations to an impossible budgeting situation are vast.
By overturning the funding decisions that campus stations needed in becoming licensed broadcasters, the provincial government is inappropriately interfering with federal regulations and with student media - and it should not be permitted. Campus radio stations across Ontario have been fighting for months to have this message heard and have the Student Choice Initiative amended. Thousands have signed a province-wide petition, and several MPPs have presented it to the Ontario Legislature. Hundreds of letters and testimonials have been sent, dozens of phone calls have been made, and official requests to meet with the Ministry of Training, Colleges and Universities have been submitted. But so far, this government has done nothing.
The situation is desperate and the impacts of losing Ontario's campus radio stations to an impossible budgeting situation are vast. Musicians in this province, already struggling from the government's drastic cuts to the Ontario Music Fund, will be losing a cost-free means of getting their music out to listeners. Music promoters, distributors, publicists and record labels will all feel this as well. And there will be a gaping hole the size of 19 radio stations in our national music charts every week. Staff will lose their jobs, students will lose their radio stations and all the opportunities that come with them, campuses will lose their media outlets, and communities will lose their voices.
Listen: How Student Groups will be affected by the SCI: Panel Discussion on CFRU Radio

Alexandra Rimmington is !earshot's Charts Editor and the Music Coordinator at CFRU 93.3 FM Radio at the University of Guelph in Guelph, Ontario.
comments powered by

Disqus