Reviews for Arc artists
Ana Alcaide
Leyenda
Spanish singer, songwriter and instrumentalist Ana Alcaide's world album Leyenda is Spanish for the word 'Legend'. Closing my eyes and listening to the intro track 'Tlalli' transcended me straight into the Avatar dimension (not the...
read more...
By Showering Thoughts
Sep 5, 2016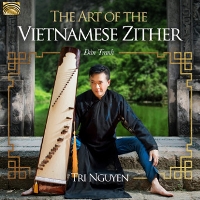 Tri Nguyen
The Art of the Vietnamese Zither
This CD is a compelling mix of traditional Vietnamese and western and other classical styles, and it's a new favourite of mine.
Ho Chi Min City-born Nguyen Huu Tri (stage name: Tri Nguyen) is a classically-trained...
read more...
By Catherine Fisher
Jul 3, 2019