Reviews for Moonjune artists
Moraine
Manifest DeNsity
New York-based record label Moonjune Records has quietly been cornering the market on jazz-fusion/progressive rock bands. Moraine, based out of Seattle, fall easily into the label's focus, combining jazz, chamber music and rock into a...
read more...
By Steve Marlow
Nov 2, 2009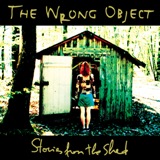 The Wrong Object
Stories From The Shed
Belgian jazz-prog band The Wrong Object have obviously been listening to some Frank Zappa records. They have the wonderfully playful mix of progressive rock and jazz fusion that Zappa excelled at. Stories from...
read more...
By Steve Marlow
Jun 11, 2008