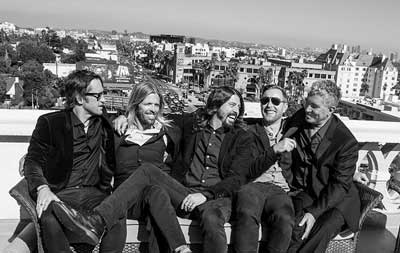 Even Foo Fighters can make it onto the Over-rated list
The Most Over-rated Albums of 2014
Just 'cuz everyone is talking about it, doesn't mean we have to like it.
Everybody has a record that drives them up the wall. The critics are drooling or it seems to be everywhere and you're left going, huh? Music (and art in general) is a funny thing. What one person loves, another person hates. So Lady Gaga and Tony Bennett are on this list and the most Under-rated list too.
We want to hear from you. Add your most over-rated record for 2014 in the comments.
Owen Maxwell - CKCU - Ottawa, ON
Theme Songs - Mondays at 10am
Foo Fighters – Sonic Highways – (RCA)
I love Dave Grohl, but my Foo Fighters love has always been half-hearted, the band has very rarely brought anything new to the table but occasionally makes some really great rock songs. While Sonic Highways' idea is a really cool concept, the album feels very disconnected due to its city-based writing style, and half the album feels out of place. Even several more Foo-like songs fall victim to the band's generic sound curse. It's a shame too because songs like "The Feast And The Famine" are as close to The Colour And The Shape as we've gotten in years.
Alan Ranta - Exclaim, Georgia Straight, Vancouver, BC
Chris Brown - X (RCA)
That this album did not only receive zeroes is a testament to how bad things are in the world.
Glen Ess - CIVL- FM Abbotsford BC
Rhythm & Rhyme - Tuesdays 11am to 12 noon
Ariana Grande My Everything
http://www.arianagrande.com/
Ooooh, this one is tricky… I think I'm going to have to go with Ariana Grande here, with the album My Everything. It's a decent if unspectacular album to my ears and I'm confused about how or why it's been nominated for a Grammy. Maybe someone can explain this to me?
Mitch Jascson - CKCU - Ottawa, Ontario
National Hum - Tuesdays 2-3pm
War on Drugs – Lost in the Dream - (Secretly Canadian)
While I'm wary of taking anything Mark Kozelek says seriously, this really was "basic John Fogerty rock". (By the way, this entire painfully embarrassing and annoying Sun Kil Moon vs. War on Drugs feud started here in the Nation's Capital at the now-locally-christened "Ottawa Bleed Fest"). This record was really just terribly boring.
Max Szyc - Ottawa, ON
At the Gates – At War with Reality – (Century Media)
The influence left by Swedish death metallers At the Gates is undeniable. Since their split in the mid-90s, legions of metal bands have copied their melodic metal blueprint to varying levels of commercial success – more than the band had themselves in their initial existence. So while their first album since 1995 is catchy and fun, it also sounds exactly like said legions of bands who have already aped the band's formula to death. However, this doesn't seem to be a problem with the mainstream music press, in which most have declared At War with Reality to be one of – if not the best – metal albums of the year. It's good; just don't expect a game changer.
Facebook: https://www.facebook.com/AtTheGatesOfficial
Twitter: https://twitter.com/atthegatesgbg
Jim Dupuis CFBX , Kamloops, BC
Jazz Notes – Wednesdays 5-7pm
Tony Bennett and Lady Gaga Cheek to Cheek (Universal)
Doesn't even rate this plug.
comments powered by

Disqus