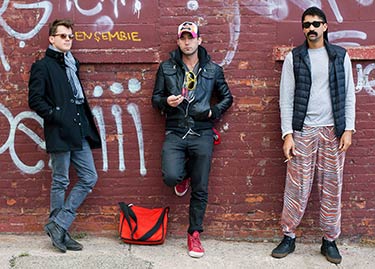 Sisyphus
The Most Under-rated Albums of 2014
A lot of really great stuff doesn't make to the top of the charts. Here are some unexpected gems.
Under-rated isn't the same as over-looked. It often amounts to the same, but sometimes it doesn't. Lady Gaga is hardly an artist who has been over-looked. But Owen Marshall doesn't think her duet with Tony Bennett got the credit is deserved. Here are some other albums that didn't get the credit and/or attention they deserved.
Share your choices in the comments...
Glen Ess - CIVL- FM Abbotsford BC
Rhythm & Rhyme - Tuesdays 11am to 12 noon
Future Islands - Singles - (4AD)
Yeah, yeah, I know it's strange for my pick for most underrated record to have also been on my list of favorites. But I honestly expected Future Islands to have exploded into popularity, especially after that electrifying Letterman performance. Oddly enough though, I've caught people humming snippets of songs like "Spirit" and "Seasons (Waiting For You)" but none of them remembered the songs were by Future Islands. Somehow this record hasn't been placed high on many end of year lists, despite it being such a quality release.
http://future-islands.com/
Mitch Jackson - CKCU - Ottawa, ON
National Hum - Tuesdays 2-3pm
Pith and the Parenchymas – Song of the Neverending Ugly Lizard – (Independently released)
This record really deserves some serious attention outside of Ottawa. The lyrical content alone is simply outstanding and unlike any other band I can really think of. Vocalist and guitarist Chris Love's ability to go from a soft croon to something that resembles a hardcore growl adds an even greater punch. And beneath this is probably one of the tightest and craziest bass and drum duos west of the Rideau.
http://pithandtheparenchymas.bandcamp.com/releases
Owen Maxwell - CKCU - Ottawa, ON
Theme Songs - Mondays at 10am
Lady Gaga & Tony Bennett - Cheek to Cheek – (Columbia)
Ever since I got the chance to see Lady Gaga for free, I've been frantically trying to convince people that not only does she put on a show comparable to KISS, that rockers will love, but also that the woman can really sing, and is more than just a pop throwaway. This record of jazz standards was mostly overlooked this year but it showcases this talent greatly covering her entire range. The selection is great too and is one of the few records this year I feel like I could listen to with my parents and both of us would enjoy, a feeling I rarely get to share.
http://www.cheek2cheek.com/
Max Szyc - Ottowa, ON
Survival Knife – Loose Power – (Glacial Pace)
Was I the only one excited for the musical return of ex-Unwound frontman Justin Trosper? While I wasn't expecting Trosper's latest project to immediately trump the accomplishments made by his prior post-hardcore outfit, I expected a better reception than it received. It's a shame that Survival Knife's debut garnered mostly mixed reviews from the few who covered it, as Loose Power is an exceptionally competent and straight forward rock and roll album. Hopefully the band will catch on with album number two.
Facebook: https://www.facebook.com/
Twitter: https://twitter.com/loosepower
Alan Ranta - Exclaim, Georgia Straight, Vancouver, BC
Sisyphus - Sisyphus (Asthmatic Kitty)
People fear the unknown, so most of the negative criticism around the eponymous album by the disparate supergroup of Serengeti, Son Lux, and Sufjan Stevens focussed on their genre hodgepodge, but it opened a new world to those who didn't try to put it in a box.
http://sisyphus.bandcamp.com/album/sisyphus
Matt Simmons - Interrobang CICK - Smitthers, BC
Interrobang - Tuesdays 9:30-12 PST
Interrobang After Dark - Wednesdays 9-11pm
Dixie's Death Pool - Twin Galaxies (Leisure Thief)
It's beautiful, in so many ways.
http://dixiesdeathpool.com/
Ming Wu - CHUO 89.1FM Ottawa Canada
Photogmusic LIVE
Sea Oleena – Shallow
Shallow is a great dreamy electro-pop album.
Didn't get the attention it deserves.
http://seaoleena.bandcamp.com/
comments powered by

Disqus