a playlist for 2010 by Chad Brunet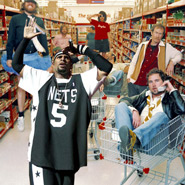 Chad Brunet
CJSR-FM Edmonton
Chad Brunet, co-host of Makin' Whoopee, eclectic music and geeky talk every Tuesday morning from 7-9am, and also Trigger Cuts, which is CJSR's chart show, counting down the top 20 most played albums every Wednesday from 9-11am here at CJSR in Edmonton.
I spend my free time watching horror films and Star Trek, or alphabetizing things.
Website:
www.makinwhoopee.ca
Twitter:
@captainrocket
2010 in Review
Another great year in music has come and gone, Time to take a look back, take stock, remember the good, try to get past the over-rated and over-hyped and highlight some over-looked gems. But first we have some playlists that capture the year in music (from a personal viewpoint)...
Best of 2010 Playlists



Too hotttt '010... Oh yeah
By Kat Dornian
Top Trackssss TwennyTen
By Chad Brunet

Picks and Pans 2010







Looking back at some of the best, the over-rated, local surprises and more. Radio hosts from across the country weigh in...
Best Jazz CDs of 2010 by Jim Dupuis
Top 10 for 2010 by Scott Thomson
The Kitchen Sink by Chris Hibbard
Good Stuff. Enjoyable Things. by Kat Dornian
Key Contrast ft. Clash by Clash Contrast
Punk, Garage & lo-fi by Alicia
Anarcha-Feminist Kool Aid Acid Test (west) by Aaron Levy
Blowing Up the Lakewood by Jason Wellwood

For January to December 2010
TW
Artist - Title - (Label)
1
The Arcade Fire
The Suburbs - (Merge)
2
Broken Social Scene
Forgiveness Rock Record - (Arts & Crafts)
3
The New Pornographers
Together - (Last Gang)
4
The Black Keys
Brothers - (Nonesuch)
5
Caribou
Swim - (Merge)
6
Tokyo Police Club
Champ - (Dine Alone)
7
Owen Pallett
Heartland - (For Great Justice)
8
Plants And Animals
La La Land - (Secret City)
9
The Sadies
Darker Circles - (Outside)
10
Women
Public Strain - (Flemish Eye)
View the full !earshot Top 200


Specialty Charts #1s
Electronic:
Caribou - Swim - (Merge)
Hip Hop:
Shad - TSOL - (Black Box)
International:
Various - The World Ends: Afro Rock & Psychedelia in 1970s Nigeria - (Soundway)
Jazz:
Cory Weeds - The Many Deeds of Cory Weeds - (Cellar Live)
Loud:
Cancer Bats - Bears, Mayors, Scraps And Bones - (Distort)
Folk/ Roots/ Blues:
Old Man Luedecke - My Hands Are On Fire & Other Love Songs - (Black Hen)
TOP TRACKSSSS TWENNYTEN : Chad
Mitchmatic – Two Weeks Off – (Old Ugly Co.): D-Bags (feat the Joe and Mikey Maybe)
Ahh, the D-Bag. DBs. Delta Betas. You know the guys. This was probably my favourite jam this summer, as Edmonton's Old Ugly all-stars detail a typical night on Whyte Ave, complete with stepped-on Aldos, irregardlessness, and added douche-canthropy?
The Joe – Playfight – (Old Ugly Co.): K Days
Local rapper The Joe nails the experience of a night gone awry at Edmonton's annual summer exhibition (doesn't every city have one?) formerly known as Klondike Days.
Small Black – New Chain - (Jagjaguwar): Search Party
Small Black make music that reminds me of John Hughes flicks. My note on the disc says "'80s synths via 1990s via 2010". "Search Party" doesn't quite live up to last year's "Despicable Dogs" but it still compels me to hit repeat and turn it up a bit louder than last time.
Cosmetics – Soft Skin 7" – (Captured Tracks): Black Leather Gloves
This track spread through the station like some kind of STI, only one that everyone likes…it's catchy, spooky, pretty damn sexy AND a b-side. Every time it got spun, another DJ would rush to the booth to ask who it was and then spin it on their show, continuing the cycle.
Laura Marling – I Speak Because I Can – (Virgin): Made by Maid
Music for sad people! Of all the songs on this record, this one grabbed me the most. The 20-year-old English folk singer sings with a voice well beyond her years and eerily manages to channel Nick Drake's sense of melancholy.

The City Streets – The Jazz Age – (Clamour Records): The Jazz Age
More sad bastard jams from some former Edmontonians who wear their influences on their sleeves. Every track on the Jazz Age hits this beat up, Springsteen-esque vibe. I can't say what it is about the title track that connects with me the most, but I think it's a great representation of the record as a whole.
Women –Public Strain – (Flemish Eye): China Steps
The aptly titled Public Strain is a cool record, if a little less noisy than their debut. I'm picking "China Steps" but this is a record that makes it hard to pick just one. This track manages to creep me out the most, but also get pretty in the right places. I really hope we will get to hear more of these guys.
Lab Coast – Wilding – (Self Released): Walking Through the Park
This Calgary act makes modern day '90s alt rock in the vein of Guided By Voices and Pavement, so really, how could I not like it. This track is my favourite 1 ½ minutes of their album, Wilding.
Brazilian Money – Friendly Neighbor – (Self Released): Ghetto Lungs
Brazilian Money jams are the sloppiest messes. I don't know how, but miraculously, in spite of mess, the songs still manage to be pretty good. "Ghetto Lungs" is the shining example of this on Friendly Neighbor, with a sing-along chorus and memorable tune you'll be humming for days.
Ted Leo & the Pharmacists – The Brutalist Bricks – (Matador): Bottled in Cork
Catchy as all hell, and also my pick for video of the year for it's hilarious, pointed stab at the Green Day musical.
Hobbins – Wizard of Words – (Self Released): Rock N' Roll Knight
The weirdest album we got this year, courtesy of a wizard of words by the name of Hobbins. The mildly autistic Hobbins defies the laws of rhythm and lays down line after genius line. "Elvis…was the king…and I am a rock and roll knight"
Broken Social Scene – Forgiveness Rock Record – (Arts & Crafts): All to All
Lisa Lobsinger finally takes centre stage and holds her own on top of a driving, well-muscled BSS track.
Best Coast – Crazy For You – (Mexican Summer): Boyfriend
On a record full of catchy summer time hits, how does one choose the best one? Don't get me wrong, I love them all, but "Boyfriend" had me impressed from the get-go, sounding like a lost classic from my mom's 45 collection.
The Hood Internet – "I'm a Flirt (Shoreline)"
So, my absolute favourite track this year goes the the Hood Internet, who seems to spend all of his time mashing up indie rock with club hits. This track manages to combine the emotional punch of
BSS
with
R Kelly's
mind numbing swagger and boast style to create something much more awesome than either on their own. Try to imagine R Kelly telling you how he's going to steal your girlfriend on top of the BSS horn section. It's truly the best of both worlds, and the most played track on my iTunes playlist this year. Get yer internets out and find it! Now!