a playlist for 2010 by Kat Dornian
Kat Dornian
Music Director
CJSW Calgary
Kat Dornian is a music fanatic! Her love has brought her to work at CJSW as Music Director. She hosts The New Classics every Monday, playing new music and also writes a zine devoted to noise called Feedback. In a completely unrelated note to that, she also loves math, especially prime numbers, and is currently looking into finding out more about emergent complexity in music. Her favourite number is 1,008,001.
http://www.cjsw.com
http://www.feedbackzine.ca
Twitter:
@CJSW_Music
2010 in Review
Another great year in music has come and gone, Time to take a look back, take stock, remember the good, try to get past the over-rated and over-hyped and highlight some over-looked gems. But first we have some playlists that capture the year in music (from a personal viewpoint)...
Best of 2010 Playlists



Too hotttt '010... Oh yeah
By Kat Dornian
Top Trackssss TwennyTen
By Chad Brunet

Picks and Pans 2010







Looking back at some of the best, the over-rated, local surprises and more. Radio hosts from across the country weigh in...
Best Jazz CDs of 2010 by Jim Dupuis
Top 10 for 2010 by Scott Thomson
The Kitchen Sink by Chris Hibbard
Good Stuff. Enjoyable Things. by Kat Dornian
Key Contrast ft. Clash by Clash Contrast
Punk, Garage & lo-fi by Alicia
Anarcha-Feminist Kool Aid Acid Test (west) by Aaron Levy
Blowing Up the Lakewood by Jason Wellwood

For January to December 2010
TW
Artist - Title - (Label)
1
The Arcade Fire
The Suburbs - (Merge)
2
Broken Social Scene
Forgiveness Rock Record - (Arts & Crafts)
3
The New Pornographers
Together - (Last Gang)
4
The Black Keys
Brothers - (Nonesuch)
5
Caribou
Swim - (Merge)
6
Tokyo Police Club
Champ - (Dine Alone)
7
Owen Pallett
Heartland - (For Great Justice)
8
Plants And Animals
La La Land - (Secret City)
9
The Sadies
Darker Circles - (Outside)
10
Women
Public Strain - (Flemish Eye)
View the full !earshot Top 200


Specialty Charts #1s
Electronic:
Caribou - Swim - (Merge)
Hip Hop:
Shad - TSOL - (Black Box)
International:
Various - The World Ends: Afro Rock & Psychedelia in 1970s Nigeria - (Soundway)
Jazz:
Cory Weeds - The Many Deeds of Cory Weeds - (Cellar Live)
Loud:
Cancer Bats - Bears, Mayors, Scraps And Bones - (Distort)
Folk/ Roots/ Blues:
Old Man Luedecke - My Hands Are On Fire & Other Love Songs - (Black Hen)
Too hotttt '010... Oh yeah
At the heart of me there is an electro loving fiend who loves to dance. How apparent is that in my selection of hot traxxx 2010? I could probably be the next Chris Sheppard, spinning a groovy dance party for all the teeny boppers out there (from the 60s or 90s)... except that my playlist consists of barely anything that was playing on hit stations and for that reason it is really darn rockin'! I hope you enjoy.
Listen to this playlist: [ Grooveshark ] [ Last.fm ]
Cults - Cults 7" - (Forest Family Records): Most Wanted
If you like things that sound remarkably old, before the time that any music we ever wanted could be found at our fingertips, then check out Cults. Their (limited 2010) recordings are darling malt-shop tunes.
Ariel Pink's Haunted Graffiti - Before Today - (4AD): Round and Round
This is probably the most commercially viable album that Ariel Pink has done to date, but I'm glad to say they haven't lost their edge. For fans of the old, it throws back in a huge way to musical pioneers like Joe Meek.
Two Door Cinema Club - Tourist History - (Glassnote): Undercover Martyn
Simply a catchy ditty that I could not get out of my head for the better part of winter 2010.
Arcade Fire - The Suburbs - (Merge): We Used To Wait
Here's a band deserving of accolades of success, praise and popularity. I'm particularly enjoy the way they keep doing catchy tunes without giving into any standard pop formula. They also bring so much artistic merit into their albums.

(Video Link: www.thewildernessdowntown.com)
Liars - Sisterworld - (Mute): The Overachievers
The Liars never cease to astound with each album they put out. What's even more remarkable is their ability to write amazingly driving and interesting songs and not lose significant fans for embarking on new stylistic paths - subtle or blatant as they may be.
The Black Keys - Brothers (Nonesuch): Howlin' For You
Is there a human being alive who can't be taken by this incredibly pure and innocent ballad riddled with all the essential ingredients of a rock song?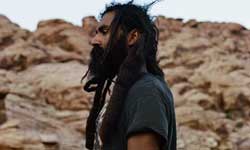 Gonjasufi - A Sufi And A Killer - (Warp): She Gone
This innovative shaman of music known as Gonjasufi absolutely killed and blew our minds with the album. It's actually very hard to describe, you just have to listen to everything!
Bradley* - Mountain Tiger Wolf - (Drip Audio): Monster
A real do-it-yourself-er here. He melds sequenced music with a folky attitude. This song "Monster" uses an emulation of Cabaret Voltaire's drum machine, which I love.
Hot Chip - One Life Stand - (Astralwerks): One Life Stand
I think Hot Chip showed some real maturity on One Life Stand, both in the lyricism of the songs and in the structural presentation. I really enjoy the title track. It reminds me of older Hot Chip with a little more breathing room and meaning.
Nitzer Ebb - Industrial Complex - (Major Records): Never Known
After all these years, Nitzer Ebb have finally released their sixth studio album. Douglas McCarthy has worked on several music projects and each one contains a couple brilliant tracks - clever and contagious.
Cosmetics* - Soft Skin 7" - (Captured Tracks): Black Leather Gloves
With the cold wave revolution kicking into high gear this year, Cosmetics joined the wave just in time with erotic, minimal and electronic tracks burned onto a short 7".
Zola Jesus - Stridulum EP - (Sacred Bones): Night
Zola Jesus, aka Nika Rosa Danilova, has been slowly rising into star-dom with her dark avant-garde noise-rock, or whatever you want to call it. I think what makes Nika do so well is her sensibility to bring enough structure to otherwise very boundary-breaking pieces.
Zola Jesus - Night from Souterrain Transmissions on Vimeo.
Strange Boys - Be Brave (In The Red): Be Brave
It must have been seeing this band live that got me gripped. Their eccentric and slightly nerdy style makes them far too endearing. The title track of the album wins me over with it's adorable account of what it's like to be young and shy.
The Provincial Archive* - Maybe We Could Be Holy - (Bedrooms * Basements): Guided by Sundogs
It's pretty much a classic alt-country track. It shares a beautiful warmth and features some of my favourite instruments that remind me of summer-times.
The Brains* - Zombie Nation - (Stomp): Sweeter than Wine
This track was my summer road trip song. It's so easy to love these hooks that get softly wedged in the brain.
Admiral Byrd - Goodbye Cruel Worldview - (Self-Released): On With the $how
It's the subdued melancholy of this song that I find very enrapturing. The musicians behind Admiral Byrd are no stranger to the alternative music business and this song seems to capitalize on a wealth of songwriting ability.
(Video Link: http://www.youtube.com/watch?v=oxsKw1jSwc4)
If you want to hear more great music like what you've just experienced tune in to CJSW, 90.9 FM in Calgary, Alberta (or online at cjsw.com). I spin rad new music every Monday 2-4 PM MST on my show called The New Classics. Sometimes it's upbeat like this stuff or crazy and wild experimental music or mind-blowing world tunes or whatever wind blows my skirt that week. As music director at CJSW, I'd love to say I have the upperhand in telling you the very, very best but I'm constantly finding out about new music from my DJs that is beyond awesome. If it wasn't for my pals I'd never be awesome (L.O.L.).
Thanks!
-Kat Dornian
Note:
* - Canadian artist