!earshot picks for 2006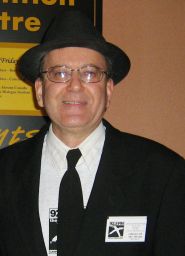 Jim Dupuis Jazz Notes with Jim CFBX 92.5 FM "The X" Kamloops, BC
I have a two hour jazz show on Wednesdays from 5 to 7 PM PT. I include interviews with jazz musicians, composers and writers about once per month. If it has a jazz sound you'll hear it on Jazz Notes. You might hear Miles Davis, Herb Alpert and the Tijuana Brass, The October Trio or Denzal Sinclaire. I play a high amount of Canadian content and often focus part of the show on recent recordings, but I don't ignore greats from the past. Jazz Notes hase annual shows featuring International Women's Day and Mardi Gras. I am a frequent contributor with features, reviews and photos to !earshot-online and the CFBX Index. I usually attend the Vancouver International Jazz Festival and the Salmon Arm Roots and Blues Festival. I was awarded the 1st Annual Programmer of the Year award in 2005. I have also, been known to wear 'silly costumes' to events and parties.
Other Picks: Canada Post
Charts & Graphs
Downbeat Years
Hop The Fence
Jazz Notes
Jeff Friesen
Pirates of the Caribbean
Powerchord
sHIFT Radio
The End of Silence

My Top 10 Records of 2006
Pat Martino Remember: A Tribute of Wes Montgomery (Blue Note)
The veteran guitar player pays tribute to one of the jazz gods and his playing is just wonderful.
Coco Love Alcorn Sugar (Black Hen Music)
While not a jazz album, the vocals are beautiful, the musicians are great and the composing inspired.
Jane Bunnett Radio Guantanamo The Guantanamo Blues Project Vol. 1 (Blue Note)
This combination of Cuban, jazz, blues and zydeco music could get anyone through a cold winter. Her cast of players, include prominent Canadians and Cuban musicians and the result is musical trip across genres with the wonderful Cuban influence highlighted throughout. Jane Bunnett is a Canadian treasure.
SF Jazz Collective II (Nonesuch Records)
This wonderful collective which, includes Canadian Rene Rosnes on piano keeps alive the work of Coltrane. It's truly an all-star band with Joshua Redman and Nicholas Payton also playing. Some great original compositions are also included.
Moncef Genoud Aqua (Savoy Jazz)
Never heard of the guy, but, can he ever play the piano. Some great mainstream jazz and a few guests, like Michael Brecker and Dee Dee Bridgewater.
Jerry Gonzalez & the Fort Apache Band Rumba Buhaina: The Music of Art Blakey & The Jazz Messengers (Random Chance)
While you would expect Latin renderings of Blakey's music, most of the Blakey cuts sound like the Jazz Messengers. There are a few Latin sounding cuts, too and Gonzalez's trumpet and Joe Ford's saxes are a formidable pairing. The percussions are awesome, as one would suspect.
Terez Montcalm Voodoo (MSI Music)
What a voice! She's somewhat reminiscent of Molly Johnson, but with her own edge. A mixture of pop classics like Sweet Dreams and Sorry Seems to Be the Hardest Word and a cut in her native French shows some versatility in her vocal stylings.
Ingrid Jensen At Sea (ArtistShare)
Vancouver Island native living in New York has put out a near masterpiece which definitely evokes the northwest coast of North America and all the beauty it contains. Her playing is sumptuous and her composing skills have reached a new height.
Kenny Garrett Beyond the Wall (Nonesuch Music)
Nominated for a Grammy, this CD includes inspired playing from great musicians. Not as hard edged as one might expect, but a CD that evokes plenty of emotion (Tsunami Song) and who can't use a message about peace?
Denzal Sinclaire My One and Only Love (Verve)
Vancouver vocalist proves that he has one of the best voices in the business in this collection of standards.
Most under-rated record of the year:
It's between Coco Love Alcorn's Sugar and Terez Montcalm's Voodoo.
Most over-rated record of the year: Anything Pat Metheny put out except his CD with Brad Mehldau.
Best local release (Kamloops, BC):
As there were no jazz releases in Kamloops (that I am aware of), I'm going to adopt The Michael Garding Big Band from Vernon. Their CD Michael's Theme is mainly a collection of big band standards played very well by the Okanagan area musicians in the band. Neville Bowman on pianos and vocals stands out and there are many wonderful moments from the large horn/reed section. It would be a nice addition to any big band/swing fan's collection.
Best personal campus/community radio moment orexperience of the year: My favorite radio moment of the year was learning that CFBX had been approved for a power upgrade from 5 watts to over 420 watts by the CRTC and that through the fundraising efforts of our staff and volunteers we had reached our financial goal to purchase the necessary equipment.
Record you are most anticipating for 2007:
Molly Johnson's new CD, as we haven't received it yet.