!earshot picks for 2006
My Top 3 records of the year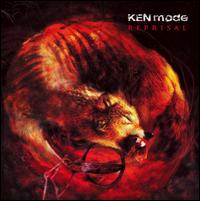 KEN mode – Reprisal – (Escape Artist)
Mammoth metallic noise rock. And no finer description will you find. This album is a relentless pummeling of the heaviest and nosiest rock around. Not a dull moment from start to finish… and what more can one ask for in an album? Fans of the Dazzling Killmen, Botch, Unsane, Kiss It Goodbye, Mastodon, and older Today Is The Day take note!
Dim Mak - Knives of Ice – (Willowtip)
Intricate death metal with riffs you do not forget. Hell… you won't be forgetting the lyrics either after Scott Ruth's sincere vocal execution. Listen to this while you go for a jog and you'll wonder why you're shadow-boxing like you're Rocky Balboa. Bonus points for blatant H.P. Lovecraft influence.
Cursive - Happy Hollow – (Saddle Creek)
What can I say? This band can write a song. I wanted to hate the replacement of cellist Greta Cohn with a horn section… and I did on my first listen. But what can I say? It grew on me. I listened to this CD in my car every day for a good two months straight. Plus I can't deny the not so secret joy I get from the heathen lyrics on this album.
Most under-rated record of the year:
See KEN mode – Reprisal above. I imagine a day will come when people catch on to this band in larger numbers… but that day has not come yet. While some of the quirkier and noisier songs might seem alienating to certain listeners, they are clearly not limited to such a style as demonstrated by the unforgettable 'Capricorn'. This band offers something for all fans of heavy music. And hell… somehow the Dillinger Escape Plan became popular….
Most over-rated record of the year:
I probably never heard it.
Best local release:
I'm not going to talk about KEN mode again…
But to add something a little different to the mix, I should mention another of the three Winnipeg releases on my top 10 of 2006: Under Pressure – Come Clean – (Yellow Dog) [with the other being Electro Quarterstaff's Gretzky on Willowtip Records]. 2006 was definitely a great year for music in Winnipeg. Maybe we have the frigid winter months to thank for this. While Under Pressure don't play a genre I spend a lot of time listening to (they take influence from bands such as Discharge, Forward, Gauze, and Lip Cream), this album definitely branches out from their primary focus and shows their true music dork colours. While fans of Black Flag, Motorhead, and Poison Idea will surely be pleased, there are a lot of unexpected influences sneaking in on this album ranging from doom to jazz to surf with an overall message of it isn't very punk to only listen to punk. Another album that didn't leave my car for months… and it only gets better the more you listen to it.
Record you are most anticipating for 2007:
I hear another Unsane album is in the works. That band can pretty much do no wrong.