!earshot picks for 2006
My Top 3 Records of the Year
Destroyer – Destroyer's Rubies – (Merge)
Everything Dan Bejar touches turns to gold. Rubies is the best album of the year because it is the one that sticks with you the most. You listen to this album once and it will keep hauling you back in for more and more. Also, 'Looters Follies' is easily one of the best non-indie rock, indie-rock songs I've ever heard.
Junior Boys – In the Morning – (Kin)
With In the Morning, Junior Boys successfully relocate Canadian from the confines of typical rockisms (ala The Guess Who or Nickleback) to the more peripheral, icy-white sounds of 80s synth-pop.
Final Fantasy – He Poos Clouds – (Blocks Recording Club)
A stunning combination of J.S. Bach, Destroyer's Your Blues, and Role Playing games, He Poos Clouds is a hauntingly beautiful album from of Canada's greatest composers.
Most under-rated record of the year
Drumheller – Wives – (Rat-Drifting)
With their astonishing ability to experiment with sound, Drumheller has put together one of the best Jazz album in years. Why they are not taking Canada by storm is beyond me. This is one of the most exciting, entertaining and perplexing Canadian groups currently playing.
Most Over-rated record of the year
The Hold Steady – Boys and Girls in America – (Vagrant)
While I'm a big fan of Craig Finn's narrative lyricism, and enjoyed last years Separation Sunday, The Hold Steady excel more on stage than in the studio, as is the case with Boys and Girls in America. Bar bands belong in bars first and foremost, not the studio.
Best local release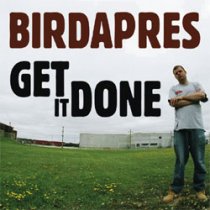 Birdapres – Get it Done – (Peanuts and Corn)
Birdapres' Get it Done is one of the better albums to come out of Winnipeg in the past few years. With its clever lyrics, sweet rhymes and catchy beats, Get it Done provides another example as to why the peg should be seen as a hot-spot for Canadian hip-hop.
Record I'm most anticipating for next year
LCD Soundsystem – Sound of Silver – (DFA)
Given LCD Soundsystem's recent production how can this album be anything short of brilliance?