!earshot picks for 2006
My Top 3 records of the year: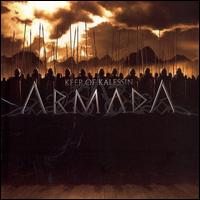 Keep Of Kalessin-Armada (Tabu Records/candlelight records)
This band should be just as big as Dimmu Borgir. What a killer record Armada is. Saw them live at the INFERNO Metal fest in Norway in April '06 and these guys just blew me away.
Katatonia- The Great Cold Distance (Peaceville records)
This band has been around for so long they deserve way more respect than they get. Killer after killer release...and this one is no exception....this is a must have for all those that claim to have an "open-mind" to music.
Moonspell- Memorial (SPV/Steamhammer Records)
Wow, did these guys ever surprise me with this release! It's heavier than their last few releases and yet retains their old style with tons of flair to boot.
Most under-rated record of the year:
Arsis-United In Regret (Willowtip Records)
These boys have up the ante on this release even more...giving bands like In Flames/Soilwork a run for their money. Arsis show the Swedes how it's done...properly!!!
Most over-rated record of the year:
Mastodon-BloodMountain(Warner Bros)
I'll be getting lots of hatemail for this but it needs to be put out there...yeah they're ok but the way the media eats their shit up is just ridiculous.....saw them on tour w/ Converge and Converge just owned them.
Best local release - Vancouver:
A Textbook Tragedy- A Dialogue Between Ghost And Priest (indie)
These boys are from Langley,BC, a li'l 'burb of Vancouver, and they can rock your socks off like the boys in Dillinger Escape Plan and Between The Buried And Me...take note people, take close note.....
Best personal campus/community radio moment or experience of the year:
Hmm, that's a tough one...seeing Sleepytime Gorilla Museum w/ Secret Chiefs 3 & Bend Sinister was one hell of a show...and that was in Jan '06... still remember it like it was yesterday....whenever you get the chance to see SGM...I highly recommend it...not for the faint of heart or the close-minded!!!
Record you are most anticipating for 2006:
The new Dark Tranquillity album