A Playlist for 2008: Weirdoes & Movie Stars: Bazooka Goes Bonkers In the O-EIGHT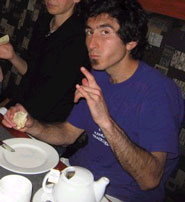 Bruno Mazzotta
Bazooka Bear Sound Cathedral
Wednesdays 8-10pm (Pacific Time)
CFBX, 92.5FM
Kamloops, BC
http://www.bazookabear.com
http://thex.ca
My show is usually made up of 6 segments. These include a collage portion, a focus on my vinyl and cassette collection, a segment dedicated to bands I'm discovering online, and selections from our playlist at CFBX. Whether I'm stressing over doing the live collage portion, or digging for new artists on "myspace" I always try to keep things a little beyond my comfort zone. It has worked out pretty well and I'm even more excited to be doing the show now than when I started three years ago.
2008 in Review
As the new year comes in, it time to look back at the musical year that was...
The '2008 Best of...' Playlists
The year-end playlist for friends and family is an annual tradition for many music lovers. !earshot takes a look at what a few of our friends and family from the music obsessed world of c/c radio are cooking up this year.
Weirdoes & Movie Stars: Bazooka Goes Bonkers In the O-EIGHT
By Bruno Mazzotta
Fader in the Key of Simultaneity
By Andrea-Jane Cornell
Meat's Sweet Treats
By Luke Meat
Picks and Pans 2008
Looking back at some of the best, the over-rated, local surprises and more...
New Shit
Jazz Notes with Jim
The Church of Noise
Jazz on the Rocks
I Am Collecting Beautiful Things
Nasty Jag Sound Crew
Canada Post-Rock
The Kitchen Sink
The love affair of the masses. This song is amazing no matter how you look at it.

The year-end mix tape/CD playlist is a seasonal ritual for many music fans who labour over carefully crafted collections to share with friends and fellow music lovers.
At !earshot we thought we'd tap a few of the music geeks we know - programmers, music directors and plain old music lovers - to find out what tracks are making it into their personal best-of collections for 2008.
We can't give you the actual tracks, but we're sure you can figure out how to seek them out in the in the wild west of the internet. Track 'em down, put 'em in yout iPod. Enjoy
Weirdoes & Movie Stars:
Bazooka Goes Bonkers In the O-EIGHT
By Bruno Mazzotta
Jim Noir: Look Around You
Self Titled - (Barsuk):
Super solid track from a diverse album that didn't get enough attention. Pop-psyche ping-pong.
Born Ruffians: Badonkadonkey
Red Yellow & Blue - (Warp)
Probably the greatest thing ever. Sing-songing like drunk jesters in medieval times. Almost "Who Could Win a Rabbit" level.
El Guincho - Fata Morgana
Alegranza - (XL)
Rowdiest song on one of the most joyous records of the year.
Marnie Stern - Shea Stadium
This Is It and I Am It and You Are It and So Is That and He Is It and She Is It and It Is It and That Is That - (Kill Rock Stars)
The first four songs off this album are all unbelievable. This is the one that grabbed me.
Jay Reatard:Screaming Hand
Matador Singles '08 - (Matador)
I was most definitely a sceptic until taking a listen to this record. Great youth-energy songs bashed out perfectly.
Gary War: Edge of Mess
New Raytheonport - (SHDWPLY)
You'll hear the Ariel Pink influence. This one was swirling through my head on many occasions.
Katie Stelmanis: Broken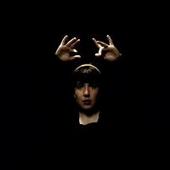 Katie Stelmanis
Join Us - (Blocks):
This exists on a different plane. A Canadian Bjork in the making?
Deastro - Keepers - (Ghostly International): The Green Harbor
Does everything that M83 was supposed to. Looking forward to seeing where this guy goes with it.
No Age: Sleeper Hold
Nouns - (Sub Pop)
The album didn't blow me away, but this song is so great and full of genius teenage energy. I love it.
Headlights: So Much for the Afternoon
Some Racing, Some Stopping - (Polyvinyl)
Wye Oak: Keeping Company
If Children - (Merge):
These two songs are perfect "soft-tone" healers. Nothing extra special, but sometimes this is exactly what I need.
Scarlett Johansson: Falling Down
Anywhere I Lay My Head - (ATCO)
I haven't seen any movies Scarlett has been in and I had no idea she had such a low voice. Very impressive work.
These Are Powers: Cockles
Taro Tarot - (Dead Oceans)
This song has a great tribal feel without any sort of over-planning or pretense involved. A great build and heightening.
Fleet Foxes: Oliver James
Self Titled - (Sub Pop)
The love affair of the masses. This song is amazing no matter how you look at it. Like early My Morning Jacket done to perfection.
Cat Power: Song for Bobby
Jukebox - (Matador):
I grew up in a house of Dylan. I saw "I'm Not There" around the time I heard this. Killin' me every time.
Menace Ruine: Dismantling
The Die Is Cast - (Alien8):
Menace Ruine: Dove Instinct
Cult of Ruins - (Alien8):
If the Stelmanis track was operating on different level then these two songs are of another universe altogether. Mind blowing.