!earshot year-end picks 2008 : New Shit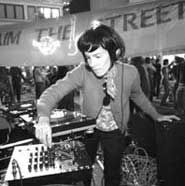 Kristiana Clemens
New Shit
Mondays 3-5pm (EST)
CKUT 90.3 FM in Montreal (www.ckut.ca).
The show plays new releases and music by artists with shows happening in Montreal.
2008 in Review
As the new year comes in, it time to look back at the musical year that was...
The '2008 Best of...' Playlists
The year-end playlist for friends and family is an annual tradition for many music lovers. !earshot takes a look at what a few of our friends and family from the music obsessed world of c/c radio are cooking up this year.
Weirdoes & Movie Stars: Bazooka Goes Bonkers In the O-EIGHT
By Bruno Mazzotta
Fader in the Key of Simultaneity
By Andrea-Jane Cornell
Meat's Sweet Treats
By Luke Meat
Picks and Pans 2008
Looking back at some of the best, the over-rated, local surprises and more...
New Shit
Jazz Notes with Jim
The Church of Noise
Jazz on the Rocks
I Am Collecting Beautiful Things
Nasty Jag Sound Crew
Canada Post-Rock
The Kitchen Sink
Klangwart hijacks your ears, kidnaps your brain and ransoms your heart before dropping you back safely where you began.

My Top records of the year
Glitterbug – Supershelter – (C-Sides)
A beautiful debut full-length from this Cologne-based DJ and producer: mixing minimal beats with intricate instrumentation to create the bedroom dancing album of your dreams.
Ursula Bognar – Recordings1969-1988 – (Faitiche)
The debut on Jan Jelinek's record label collects previously unreleased material from this German pharmacist and housewife cum electronic music pioneer. A must listen for fans of Wendy Carlos, Raymond Scott, Perrey & Kingsley and the like, even as the mystery of whether this album might perhaps be an elaborate alias for Jelinek's own work remains unresolved. The gatefold LP version is my Christmas wish this year,
Klangwart – Stadtlandfluss – (Staubgold)
Transporting listeners from etherial ambience to throat-throttling intensity, Klangwart hijacks your ears, kidnaps your brain and ransoms your heart before dropping you back safely where you began.
Most under-rated record of the year
Ricardo Villalobos – Vasco – (Perlon)
Continuing in his tradition of minimal tracks with epic proportions, Villalobos offers four cuts in 70 minutes with perfect percussion and deceptively simple sampling. Don't believe the hipsterized, disinterested non-hype this release has received so far!
Most over-rated record of the year
Stereo Image – S/T – (Frog Man Jake)
Unlike the 3D illusion this band name alludes to, the duo is sadly less than the sum of its parts: but touring with Shout Out Out Out Out is bound to get you some attention I suppose.
Best local release
-o- – -o- - independent
A release that arrived at CKUT shrouded in mystery: who were these musicians, and how did they manage to strike this perfect balance between turntable experimentation, CAN-esque jamouts, straight up rhythm section funk and psychedelic noise? One answer: when you've got Martin Tetreault using a tortilla as a record during your live shows, you know you're doing something right.
Best personal campus/community radio moment or experience of the year.
Finding a community radio station tucked inside a café on the first floor of one of the only art deco buildings in Kyoto, Japan: the building also houses an awesome record store and all kinds of artist-run organizations. Wow.
Record you are most anticipating for 2008
The second album from -O-, which should be out real soon.