A Playlist for 2008: Fader in the Key of Simultaneity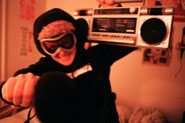 Andrea-Jane Cornell
Where's The Beat?
Wednesday 9 -11 am
If You've Got Ears
Wednesday 12-2 pm
Both on CKUT 90.3FM in Montreal. www.ckut.ca
I'm the Music Resources Coordinator at CKUT, which is just a fancy title for music librarian or soundbrarian, either way I get paid to listen to Music.
I have been hosting Where's the Beat? on a bi-weekly basis since July of 2005. I'll play anything innovative that isn't beat driven and void of traditional melodic structure. I try and push the envelop on the classic notion of what electroacoustic music is. I also host If You've got Ears about once a month, it's a collective of programmers that fancy themselves as tongue in cheek experimental music aficionados. It's no holds barred style radio where you can have 2 turntables, 3 cd's, the tape deck, and both computers playing, with microphones hanging outside the studio windows, and some do dads plugged sounding off in the aux input and no one will think anything is out of the ordinary..
2008 in Review
As the new year comes in, it time to look back at the musical year that was...
The '2008 Best of...' Playlists
The year-end playlist for friends and family is an annual tradition for many music lovers. !earshot takes a look at what a few of our friends and family from the music obsessed world of c/c radio are cooking up this year.
Weirdoes & Movie Stars: Bazooka Goes Bonkers In the O-EIGHT
By Bruno Mazzotta
Fader in the Key of Simultaneity
By Andrea-Jane Cornell
Meat's Sweet Treats
By Luke Meat
Picks and Pans 2008
Looking back at some of the best, the over-rated, local surprises and more...
New Shit
Jazz Notes with Jim
The Church of Noise
Jazz on the Rocks
I Am Collecting Beautiful Things
Nasty Jag Sound Crew
Canada Post-Rock
The Kitchen Sink
Though painfully awkward, I couldn't stop listening to this. This is what it sounds like when the voices take over your mind.

The year-end mix tape/CD playlist is a seasonal ritual for many music fans who labour over carefully crafted collections to share with friends and fellow music lovers.
At !earshot we thought we'd tap a few of the music geeks we know - programmers, music directors and plain old music lovers - to find out what tracks are making it into their personal best-of collections for 2008.
We can't give you the actual tracks, but we're sure you can figure out how to seek them out in the in the wild west of the internet. Track 'em down, put 'em in yout iPod. Enjoy
Fader in the Key of Simultaneity
By Andrea-Jane Cornell
Squeezing my favorite tunes from oh-eight into a 60-minute mix required some jimmying and simultaneous play. This ain't an i-tunes mix son, it's the real deal.

Ragga Twins: Ragga Trip –
The Ragga Twins Step Out – (Soul Jazz)
Nothing kicks off a mix tape like a UK dancehall – hiphop - jungle transfusion at the hands of North Londonites, Deaman Rockers and Flinty Badma. Guaranteed to make your ass shake or give you a seizure, depending on your moves.
Mark Tucker: Attractive
In the Sack – (De Stijl)
Though painfully awkward, I couldn't stop listening to this. This is what it sounds like when the voices take over your mind. Tucker's talent lies in capturing these voices for reverberation in the heads of others. He also legally changed his name to T. Storm Hunter
Siamese Spectre – :Discuss Mistrust
The Addict Affair – (Independent)
Siamese Spectre, has put out albums under the monicker "Genou" and under his own name Emmanuel Cote. This release is ornately textured with Synths, distorted vocals, and a tint of omnious tension.
Ryoji Ikeda: Polaroiding/Sleeping
See You at Regis Debray – (Syntax):
Ryoji Ikeda's original score to C.S. Leigh's film See You at Regis Debray spans 2 discs. both are rather stark minimalist foley-like soundscapes from different scenes in the film, peppered with a guitar chord theme that slackens the audible tension. Sound art at its finest moment.
Pas Chic Chic: Brise Meprise
Au Contraire – (Semprini):
Set to a funeral march bass drum beat, this track mingles with the macabre with layered synths, intermingling female and male vocals, distanced tambourines, and gentle rattling percussion.
Grails: Doomsdayer's Holiday
Doomsdayer Holiday – (Temporary Residence)
Doomsdayer's Holiday tortured screams, galloping horse hooves, grinding guitars, and repetitive motifs. It's minimalist psych-prog.
Tom Heasley and Toss Panos: Elegy For Philip Berrigan
Passages – (Full Bleed Music)
This album got the most wear this year. I can echo it in my head. Drums, Tuba and reverb that propels you out of the stratosphere. Music to soothe that which ails you.
Ursula Bogner: Begleitung fur Tuba
Recordings 1969-1988 – (Faitiche)
Whether Ursula Bogner was a real woman or the fabricated figurehead for this release on Jan Jelinek's label matters not. This album recalls a time where anologue synths were the crowned jewels of electronic music.
Group Inerane: Tenere Etran
Guitars From Agadez – (Sublime Frequencies)
Dissonance, feedback, vocals doubled by group chanting – echoes of Tuareg rebel music, a mix of electrified folk, blues and traditional music of the Republic of Niger
Roger Darmawuzan: Wait For Me
African Scream Contest – (Analog Africa)
Oh my! Soul .Sweet soul funk breaks from Benin circa 1970
Bellemou & Benfissa – 1970s Algerian Proto-Rai Underground – (Sublime Frequencies): Li Maandouche l'Auto
The brilliantly slack roots of Algerian Rai, the party starts here. Trumpets a blaze.
Bonnie 'Prince' Billy: What's Missing
Lie Down in the Light – (Drag City)
Wil Oldham is the voice of longing.
The Reveries: Crazy
Matchmakers Vol.1 The Music of Willie Nelson – (Rat Drifting)
A crooked interpretation of Willie's tune by Ryan Driver, Eric Chenaux & Doug Tielli.
Holzkopf : Pure Bliss No Earth
Pure Bliss No Earth 12" – (Eschaton Industries)
Gospel discombobulated and looping in a blender that's emitting a forceful drone.
Yoshi Wada: Off the Wall I
Off the Wall – (EM Records)
Bagpipes, adapted organ and percussion in a minimalist vein and phase shifting to boot.
Andrew Coltrane & Mike Khoury: Untitled
1000 Basements – (Detroit Improvisations)
Live improv set slow mounting tension. Solid. Entrancing. Set to internally combust.
Scott Tuma: Not For Nobody
Reprieved – (Digitalis Industries)
Little warbled voice, plucked acoustic guitar, the sound of a porch swing creaking and wind chimes ringing, a truck driving away; so long; so sorry the little voice creaks.