A Playlist for 2008: Meat's Sweet Treats.
In the first of a series commemorating the best of 2008, Luke Meat, Music Director at CiTR in Vancouver, puts together a playlist of some of his favourite tracks of the year.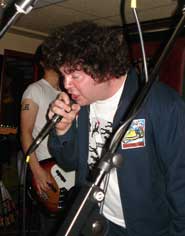 Luke Meat
Luke Meat contributes our first playlist. As the Music Director at CiTR Radio in Vancouver, Luke gets to listen to an awful lot of new music over the year. With so much to choose from, picking favourites can be a challenge, but you know, if you listen to enough music you get to be pretty discriminating .
Luke also hosts the program Anoize (see the !earshot profile) and is also one of the instigators behind the Value Village People. You can catch his show, which is a whole different thing than this list, streaming live or on podcast at www.citr.ca.
2008 in Review
As the new year comes in, it time to look back at the musical year that was...
The '2008 Best of...' Playlists
The year-end playlist for friends and family is an annual tradition for many music lovers. !earshot takes a look at what a few of our friends and family from the music obsessed world of c/c radio are cooking up this year.
Weirdoes & Movie Stars: Bazooka Goes Bonkers In the O-EIGHT
By Bruno Mazzotta
Fader in the Key of Simultaneity
By Andrea-Jane Cornell
Meat's Sweet Treats
By Luke Meat
Picks and Pans 2008
Looking back at some of the best, the over-rated, local surprises and more...
New Shit
Jazz Notes with Jim
The Church of Noise
Jazz on the Rocks
I Am Collecting Beautiful Things
Nasty Jag Sound Crew
Canada Post-Rock
The Kitchen Sink
The year-end mix tape/CD playlist is a seasonal ritual for many music fans who labour over carefully crafted collections to share with friends and fellow music lovers.
At !earshot we thought we'd tap a few of the music geeks we know - programmers, music directors and plain old music lover's - to find out what tracks are making it into their personal best-of collections for 2008.
We can't give you the actual tracks, but we're sure you can figure out how to seek them out in the in the wild west of the internet. Track 'em down, put 'em in yout iPod. Enjoy
Meat's Sweet Treats
By Luke Meat
The Legendary Pink Dots: Torchsong
Plutonium Blonde-(ROIR)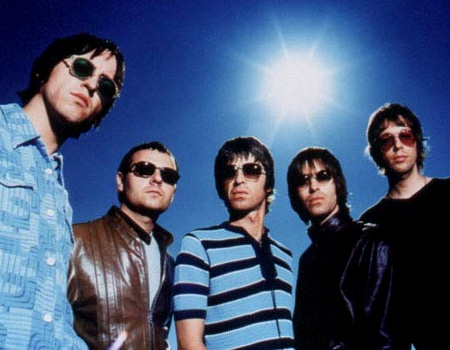 Oasis: still beating each other
up after all these yearsI've always been impressed by bands who can exist through over 40 albums and still churn out quality stuff. After 20 years of ignoring 'em The Dots finally aurally grabbed my skull and forced me into their world of industrial psychedelic psychosis. The scariest track I've heard in a real long time. I'm actually going through the old stuff now too.
Menace Ruine: Dismantaling
The Die Is Cast-(Alien8)
This song brings out a Goth side of me that I thought had long been dormant since high school. It's like Current 93's Freya Aswynn hooked up with the 2 dudes in Sunn 0))) and transported back to the 14th century.
Final Fantasy: The Butcher
Spectrum 14th Century-(Blocks)
More Cale-esque prettiness from Canada's favorite queer violinist. If he keeps writing songs like this he'll wind up on a soundtrack for movie with Michael Cera in it. Eep.
Oasis: The Shock of the Lightning
Dig Out Your Soul-(Reprise)
If you wanna argue about this one with me I'll shove a Magical Mystery boot up your ass. Their best since "What's The Story".
The Better Beatles: Penny Lane
Mercy Beat-(Hook or Crook)
The best deconstruction since "Money" by The Flying Lizards. And I always thought Nebraska was boring.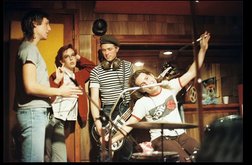 The Beater Beatles are asking
for trouble with a name like that.
Tobacco: Hairy Candy
Fucked Up Friends-(Anticon)
Imagine Boards of Canada with flutes and you're getting warm.
1977: Free
S/T-(Indie)
Stereolab synths paired with Brian Wilson piano pop. From Toronto. Seriously great pop.
Women: Shaking Hand
S/T-(Flemish Eye)
Free, atonal, indie prog from Calgary. I haven't been this excited since I heard Polvo in '92.'\
Steinski-: Number Three On Flight Eleven
What Does It All Mean? 1983-2006 Retrospective-(Illegal Art)
If McCain had played this track while he was running for Prez, Obama might have been in serious trouble. Terrifyingly beautiful, politically and historically relevant; the epitome of everything that's great about audio art.
Times New Viking: My Head
Rip It Off-(Matador)
Boisterous anti-music by kids who don't know any better.
A Faulty Chromosome: Them Pleasures Of The Flesh
As An E-Anorexic's Six Sicks Exit,...(Indie)
Nothing to say about this. I just like it.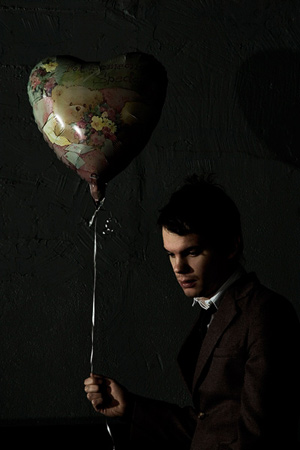 Andy Dixon also performs
as Secret Mommmy Andy Dixon: Ostrich Fight Song
The Mice Of Mt.Career-(Ache)
I swear to God something gets in my eyes every time I hear the ending of this tune.
No Age: Eraser
Nouns-(Sub Pop)
This will probably be on a lot of lists.
Bison: Dark Towers
Quiet Earth-(Metal Blade):
With bands like Bison, the Earth is definitely a less quieter place. Go see em. They will rip you a new orifice.
Kingdom Shore: It's Not What You Say But Who You Give It To
...And All The Dogs To Shark (Stray Bullets Singing):
Like a plague of insects eating you from inside. And not in a good way.