!earshot year-end picks 2008 : I am Collecting Beautiful Things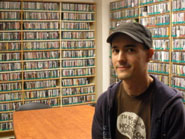 Chris White
I have been the Music Director at CJAM-FM in Windsor, Ontario for two years now. On Thursday afternoon from 2:30 – 4:00 p.m. (EST), I host a music variety program called I Am Collecting Beautiful Things. In January, the goal was to play as many different artists in one year without a repeat, and I should reach artist #900 by the end of the year. Full disclosure: I accidentally played the Toronto hip-hop duo, Art Of Fresh, twice but otherwise the project was a success.
2008 in Review
As the new year comes in, it time to look back at the musical year that was...
The '2008 Best of...' Playlists
The year-end playlist for friends and family is an annual tradition for many music lovers. !earshot takes a look at what a few of our friends and family from the music obsessed world of c/c radio are cooking up this year.
Weirdoes & Movie Stars: Bazooka Goes Bonkers In the O-EIGHT
By Bruno Mazzotta
Fader in the Key of Simultaneity
By Andrea-Jane Cornell
Meat's Sweet Treats
By Luke Meat
Picks and Pans 2008
Looking back at some of the best, the over-rated, local surprises and more...
New Shit
Jazz Notes with Jim
The Church of Noise
Jazz on the Rocks
I Am Collecting Beautiful Things
Nasty Jag Sound Crew
Canada Post-Rock
The Kitchen Sink
This was probably the strongest year for Windsor releases in a very, very long time.

My Top records of the year
1. No No Zero – Rough Stuff – (Signed By Force)
Former and current members of bands such as The Exploders, Quest For Fire, Catl, and The Punching Nuns team up for the one album that I absolutely could not get enough of in 2008. Sixteen infectious garage punk songs focused on sex, and for the most part they hit hard, fast, and loud. Who knew that singing along to songs like "Ass Commando" could be so much fun? http://nonozeroblog.blogspot.com/
2. Michna – Magic Monday – (Ghostly International)
A wonderful collage that pulls inspiration from a variety of genres, borrows sounds from a variety of sources, and seemingly features a song for every occasion. While many will accurately focus on Flying Lotus as one of the breakthrough electronic artists of the year, Michna should not be over-looked. Magic Monday is one of the most adventurous releases of the year! http://www.myspace.com/eggfooyoung
3. 9th Wonder and Buckshot – The Formula - (Duck Down)
Leave it to a veteran MC with 16 years in the game, and a producer with the strongest track record over the past five years, to release one of the best hip-hop albums of 2008. Buckshot rhymes with ease and precision, mixes in clever punch lines, and covers common issues without alienating listeners. If this isn't a textbook example on how to rap, look for Buckshot's upcoming collaboration with KRS-One in 2009 to fill that role. http://www.myspace.com/buckshot
Most under-rated record of the year
I'm probably in the minority with this selection, but Anywhere I Lay My Head by Scarlett Johansson was a lot better than many may have you believe. It would have been more accurate to release this under producer Dave Sitek's name, as you get the sense that he's controlling most of the shots, and Johansson's voice is just another source for him to work with.
In Canada, The Soiree, Mardeen, The John Henrys, Farideh, Entire Cities, The Mole, and iNSiDEaMiND released under-rated albums that should have made them household names.
Most over-rated record of the year
Releases by Titus Andronicus, Crystal Antlers, The Last Shadow Puppets, Vivian Girls, Crystal Stilts, and a number of others that rightfully don't come to mind, received a lot of hype, but didn't really catch my attention.
Best local release
This was probably the strongest year for Windsor releases in a very, very long time. 87 Things For The Future, Explode When They Bloom, Fiftywatthead, Furs, James O-L, Johnny West, Travis Reitsma, Vex, What Seas What Shores, and a number of others released excellent albums that are worthy of this title. They all deserve mention, so don't ask me to choose just one.
Best personal campus/community radio moment or experience of the year.
Hosting the National Campus Radio Conference in Windsor is the obvious highlight. It was fun even during the most stressful moments, but I wish there was more time to meet my fellow campus/community members.
Record you are most anticipating for 2009
With any luck The Got To Get Got and/or Ghettosocks will release new albums in 2009.